Restaurant Tactics to Win in the Off-Season with a Low Budget
Restaurants , 6 May 2021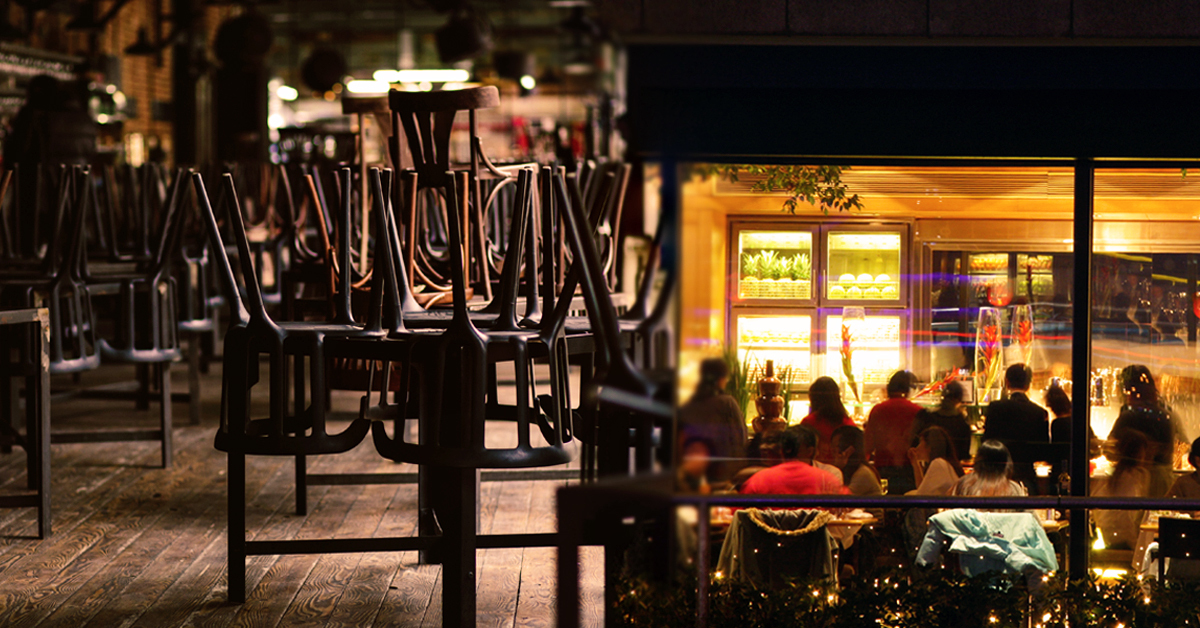 A universal challenge of restaurant marketing managers across the globe is the drought of customers during an off-peak season. Regardless of when that falls in your area, generating a buzz and bringing new patrons through the doors requires a cohesive marketing strategy and the perfect storm of both digital and traditional advertising.
As much as it has become an industry buzzword, it's worth noting that for a lot of hospitality businesses, COVID-19 is mimicking an off-season drop off in foot traffic and customers through the door. Staying afloat is the primary focus, and as you'll likely already be well versed in, COVID-19 has also been the catalyst for a tightening of purse strings in terms of marketing budget.
Herein lies the monumental challenge that the restaurant industry faces; how to run a successful marketing campaign during an off season or COVID-induced climate - without an extensive ad-spend.
In our collective experience of marketing in the industry, we've put together a few quick tips. You may already be across some of these, but if not, we'd recommend leveraging these in conjunction with the pillars of restaurant marketing we covered in our recent blog and sharing with independent restaurant managers.
Jump a specific section:
Harness Segmentation to Ensure Your Messaging Lands
The number one mistake to make when marketing during an off-season or climate like COVID-19 is to cast the net far and wide and see what lands. During a peak season when customers are frequent and budgets are higher, you might be better poised to expand your reach, but during an off-season, fundamental to a successful tactic is to really nail down your segmentation of audience and customers.
This will ensure that any messaging you send out during the off-peak period hits the right people at the right time, and no budget is lost on dead leads. If you're not already reviewing who your customers are or feel like you could use a tightening of the ship in terms of audience segmentation, here's a quick outline of how to get on top of it.
Decide how you're going to segment your audience for marketing purposes. Depending on the type of restaurant(s) you run the answer to this might be quite obvious, but if not here's a good infographic that will help to refine your segmentation.


Image Source: Seven Rooms


Conduct persona research and gain an understanding of what a customer within each of your pre-defined market segments looks like. There are

a number of ways you can do this

, but we'd recommend starting with asking your current customers to fill out feedback forms to get an understanding of who they are and what they like. Remember, this should always be data driven and not assumption based.
Develop a scalable plan to reach these segments effectively. If we go back to the wide-net casting analogy, building advertising campaigns during off-peak seasons without a highly defined target audience and content / events designed to connect with a segmented audience and personas is a surefire way to reduce the accuracy of who sees your marketing and use ad-spend where it doesn't count.
Use email lists to send highly personalised emails to your database of customers, retarget ads to audiences that reflect your personas, build event marketing strategies around your personas and ensure your messaging connects - you're guaranteed to have a higher hit-rate using segments than marketing without.
Create Specifically Targeted Marketing
With these defined personas and segmentations in mind, you'll be in a great position to take your regular tried and tested marketing events like quizzes, themed nights and cuisine based evenings, and leverage them based on your newly collected data to resonate with exactly who you want through the door.
Here are some excellent real-world examples of restaurants globally who have taken this particular tactic and run with it:
US brand Ruby Tuesday targeted millennial moms with an emphasis on family dynamics and healthy eating with 'The Shy Girl' ad. Granted - this is a large budget, but

worth a watch.



NZ's Bar 101 are in tune with their 18 - 22 year old target audience, promoting

university-based marketing campaigns on their Instagram account

. Pay special attention to the O'Week highlights reel and a tongue and cheek urge for students to send Prime Minister Jacinda Ardern herself around allowing COVID restrictions to lift for the sake of $3 Cruisers. Controversial, but undeniably strong uni-speak.
Over in the UK, a great example of audience targeting is the highly sought after Le Gavrouche. Their target audience is an older demographic with a higher income, and their marketing efforts reflect this, using the personal brand and reputation of renowned chef Michel Roux Jr. to add a tone of exclusivity and high-class. Take a look at the

Le Gavroche Instagram account

for a clear depiction of this; clean, white colour scheme, highly professional, all underpinned by the face of Michel Roux Jr.
In off-peak seasons with tight budgets, it's more important than ever to use segmented audiences to connect with the right target customer. Messaging that connects, converts.
Understand the 'Cost-to-Value' Ratio of Your Budget
This is relevant to consider during both peak and off-peak climates, but especially relevant in times of budget strain, and when foot traffic is at an all time low. Again, you want your marketing to hit the right audience at the right time, and half of that battle is negating the cost-to-value of where you're putting your marketing spend.
Let's break it down into digital and traditional avenues.
Digital Marketing Spend
Always do you research, no matter where you're placing your digital marketing spend. Depending on the size of your audience and how contested the screen space is to place your ad, the cost of advertising will change daily. Here's how you can check exactly how much it's going to cost you to go to market and make informed decisions.
Google Ads: make use of the

keyword planner tool

. This will tell you the search volume of keywords, difficulty to rank and the cost per click.
Facebook and Instagram ads: jump into your

Facebook business account

and use the ad manager tool. You'll be able to mock up ads, define audiences and see an estimate of cost and reach for your advertising. As Facebook owns Instagram, you can hit two birds with one stone here.
Traditional Marketing Spend
Traditional marketing can be expensive, so if you're going to go down this avenue to get customers through the door during off-peak, make sure you look into the cost to value of your ad placement. Here's a chart we've put together (note, it's based on NZ dollars, but the audience relevance metric is still useful to those elsewhere).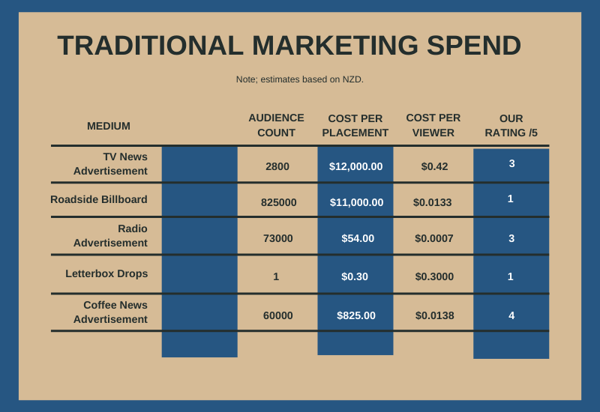 Leverage Relationships & Industry Connections
Your industry connections are going to be of utmost importance during off-peak seasons and times of strain. It's likely you'll already be doing this in some form or another, but in case you haven't yet deep-dived into the intricacies of using your connections, here are a few ideas.
Utilise Social Influencers. There's a bit of stigma against the cost of using social media influences vs. the return on investment, but there's no denying that they're excellent for getting your brand across new audiences that are specifically following influencer accounts to decide where to eat. Create and utilise these relationships to increase reach and get your brand in the social-sphere.


Partner with Local Businesses. We've mentioned this before, but in times like these there's real strength in numbers. If you're friendly with a local business and you can see an angle for a partnership or co-event, off-peak seasons are the time to reach out and build something to benefit you both.


Cut Costs with Marketing Partnerships. Depending on the scale you're working with, there may be opportunity to slim down your budgets by partnering with a new marketing company, or even one that you have a personal relationship with. For those working on a smaller company with no budget to outsource, look into experts you know within your closer circles.
The Power of the Early Bird Special
An off-peak angle we are particularly passionate about is the early bird special. When you're struggling to get foot traffic through the door and reach new patrons, it's especially important to make the most you can out of typical lulls in service - this is where you'll see the best return on investment.
The key thing to know, is that empty tables cost you money. So how, as a marketing manager, can you reduce the amount of empty tables during an already strained, off-peak season? Through incentivising diners to be the first to book a table at your restaurant, during a normally quiet time that you, the restaurant owner or marketing manager, decide.
If you're keen to find out how you can start making money during that first hour of service and add this strategy to your off-peak marketing efforts, download our free guide below. It explains exactly how it works, including a breakdown of the costs involved and potential ROI.
The best part is, unlike many other solutions, First Table is commission-free, there are no monthly plan charges and there's no fixed-term commitment, so take a look and get in touch if you feel it'll be beneficial.
Join our community of like-minded hospitality marketers on Facebook for exclusive content, industry insights and connections with hospitality thought-leaders, here.